After first beginning his musical education in elementary school, it was years until Nat began playing guitar and composing music. It was during college when he met until the present day, one of his greatest musical influences, Bernard "Happy" Shaw, who shared with him his soulful and inspired reggae music. Shaw, originally from Spanishtown Jamaica, played with Inventive Source in Jamaica and backed up such Jamaican acts as Culture. About the time Nat met him, Shaw started the band "Nagasa". Influenced as well by other Reggae singers such as Bob Marley, Bunny Wailer, Dennis Brown, Jimmy Cliff and European bands such as Steel Pulse, The Clash and The Jam. Nat's influences extend to r&b with artists such as Earth, Wind and Fire, Parliament, Kool and the Gang, Marvin Gaye, Stevie Wonder, Bobby McFerrin and Prince. From the world of Afro Latin music his influences include Beny More, Monguito, Los Muñequitos de Matanzas, Ismael Rivera, Jose Feliciano, Los Van Van, Paulito F.G, Manolito y su Trabuco, Elito Reve Jr. y su Charangon and Charanga Habanera.
In 1984, after moving to Portland, OR, Nat began studying Afro Cuban music with Trevor Salloum (Trevor Salloum, who is also a naturopathic physician has published several books on Bongo through Mel Bay publishing Co.) and in the same year began singing with the Salsa band "El Combo Caribe" led by timbalero Carmen Gangi. After a year and a half the band dissolved and Nat continued rumbas with Portland musicians, playing capoeira with teacher Almiro Aquilino dos Santos and after another year began singing for another reggae band called The Tribe. After a year of involvement with The Tribe, Nat formed his own band, Caribbeat, which integrated various World Music forms including Reggae, Hi Life, Soca, and Afro Latin. In 1988 Nat relocated to Maui.
Some of you may recall the 1992 Maui Community Theater's smash production of the Rocky Horror Show in which Dr. Nat starred as Rocky amidst the talents of Eric and Amy Gilliom and our beloved Ed Fields (Riff Raff). Since then he has reprised the role of Rocky in the 2001 Iao Theatre production of the Rocky Horror Show again with Amy and Eric
Gilliom and again in 2003 in the Hapa's nite club presentation of Rocky Horror along side the talents of Willie K, Kelly Covington, Tim Wolf, Jerry and Debra Lyn Eitling, Dale Button and again Eric and Amy Gilliom. Nat has played with many musical groups on Maui including his previous band "Globeat". Currently he continues training in Capoeira (Afro-Brazilian martial art/dance/acrobatic form) under the instruction of Professor Guga occasionally performing in Brazilian shows featuring Capoeira, Maculele and Samba and has travelled to Brazil three times. He has continued his pursuit of Afro Cuban music, attending the Afrocubanismo conferences in Banff, Canada in 1994 and 1996 and studying with the Havana based Timba band, Doble Impacto and Cuban tresero Efrain Rios and the band Cubanismo (led by Jesus Alemañy). Efrain Rios is one of Cuba's foremost treseros who has recently published the leading book on tres playing entitled "Acerca del Tres… el Son y el Tumbao" through Egrem Cuba. Efrain Rios is cofounder, with his Brother Luis Rios, of the traditional Cuban band "Raison". Luis Rios is the composer of the current salsa hit "Que Manera de Quererte, Que Manera" popularized by Albita and Gloria Estefan.
Nat does an appearance as the flower delivery boy in the Maui film "Get A Job" (2010) written and directed by Brian Kohne as the flower delivery boy.
Dr. Nat reprises the part of Rocky in the Eric Gilliom production with the Maui Arts and Cultural Center "Rocky Horror Halloween Dance Concert" on Oct. 31, 2014… The show featured Amy and Eric Gilliom as Janet and Dr. Frankenfurter, harkening back to the 1992, 2001 and 2003 productions of the musical. Also returning from the first show was Bill Hensley as Eddie and from the later shows Jerry Eiting as Brad, Gina Martinelli as Magenta, Dale Button as Dr. Scott, Tim Wolfe as the narrator (and a special cameo visit from Mick Fleetwood via video).  Representing the cast from the later shows also were Kelly Covington, Scott Hernandez and Camille Romero.  The Sins of the Flesh band included Daniel Alana on rhythm guitar, Vince Esquire on lead guitar, Indio on drums, Marcus Johnson on bass, and Gilbert Emata on Keyboards.
Dr. Nat has performed with Pat Simmons, Mick Fleetwood, Alice Cooper, Steven Tyler and Willie K on Maui in various events over the years.
Nat is also presently collaborating with Aisha Kahlil of Sweet Honey in the Rock on a duet recording project.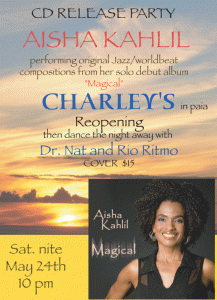 Bio for Aisha Kahlil.…….AISHA KAHLIL joined Sweet Honey in the Rock in 1981. With experience in jazz singing and knowledge of African dance and song performance traditions, she moved the ensemble into new ground in its exploration with vocal improvisation. She is Sweet Honey's strongest blues singer, a genre of song she had not previously explored before coming to the group. Some of the their most innovative and experimental work occurs in the performances of her compositions, including "Fulani Chant" and Wodaabe Nights." In 1994, Kahlil was named 'Best Soloist in Contemporary A Capella Music' for her vocal performance of "See See Rider" and "Fulani Chant" on the recording "In This Land" (EarthBeat! Records). In her work as a performing artist and master teacher in voice and dance, Kahlil specializes in the integration of traditional and contemporary forms of music, dance and theater. She is co-director of First World Productions with Nitanju Bolade Casel.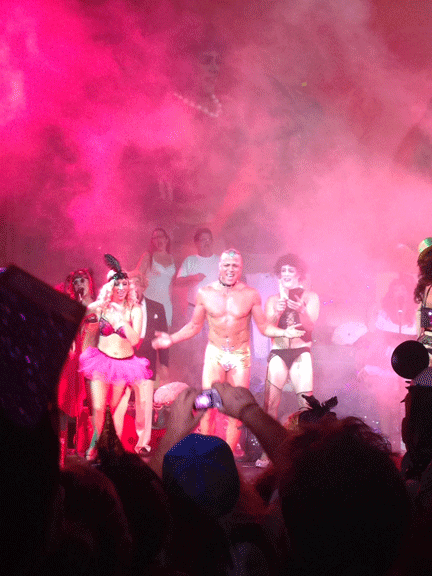 as Rocky in the Rocky Horror Dance Concert at the MACC 10/31/14