Hola y Aloha kakou!
Every Friday night Heritage Hall in Paia hosts Latin Nights with Dr. Nat and Rio Ritmo 
The night starts out with an intro salsa lesson as part of the $15 adults/$10 under 18 cover. The lesson starts at 8:00 until the band starts at 8:30.
This is event is all ages and is BYOB.  You can bring alcohol if you choose or any beverage of your liking.  
Eduardo and his yummy tacos will be on site so bring your appetite!
There is good ventilation and ample room for dancing as well as seating!
Heritage Hall is located at 401 Baldwin Ave. at the top of Paia across from the Old Sugar Mill.
We hope to see you there …old friends and new!
A hui hou!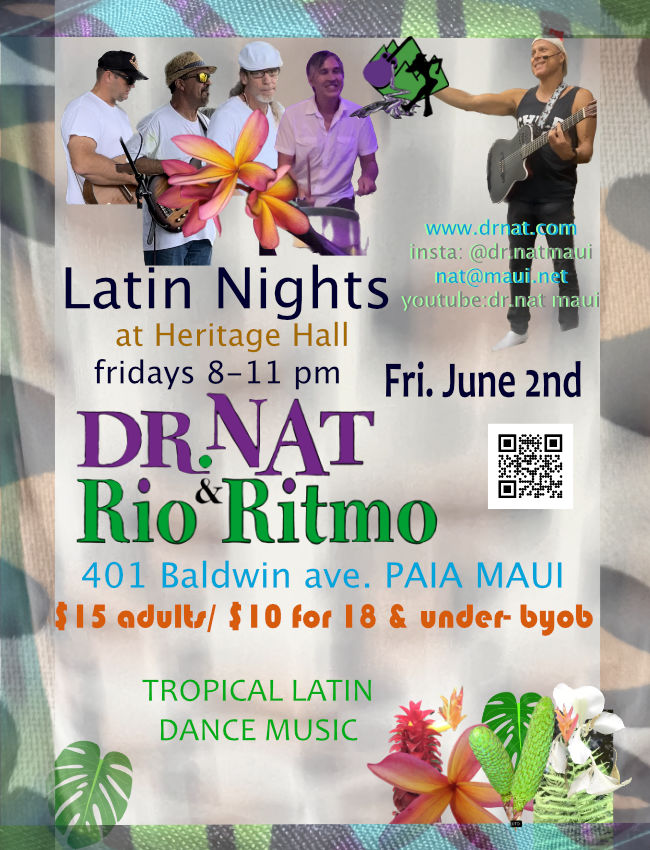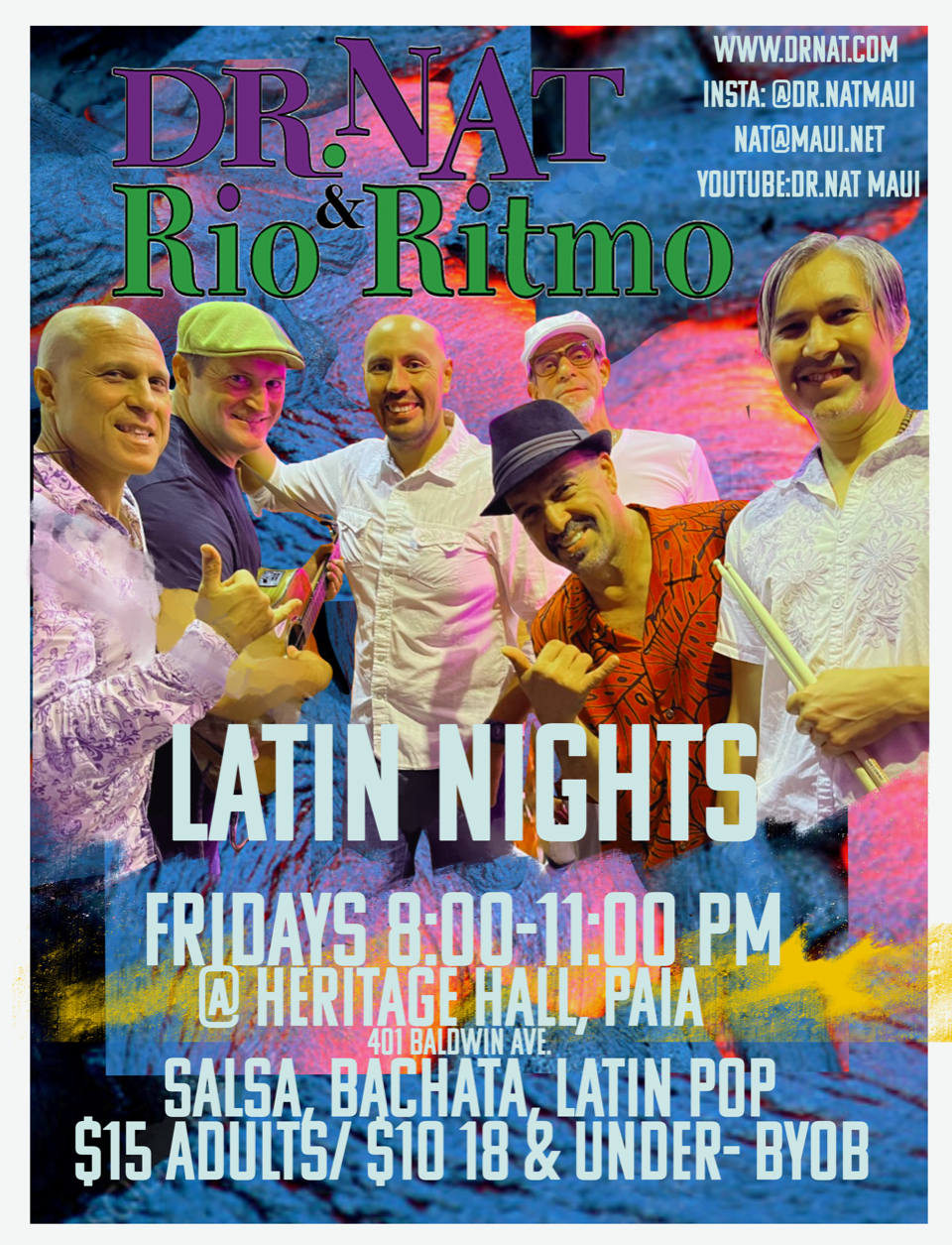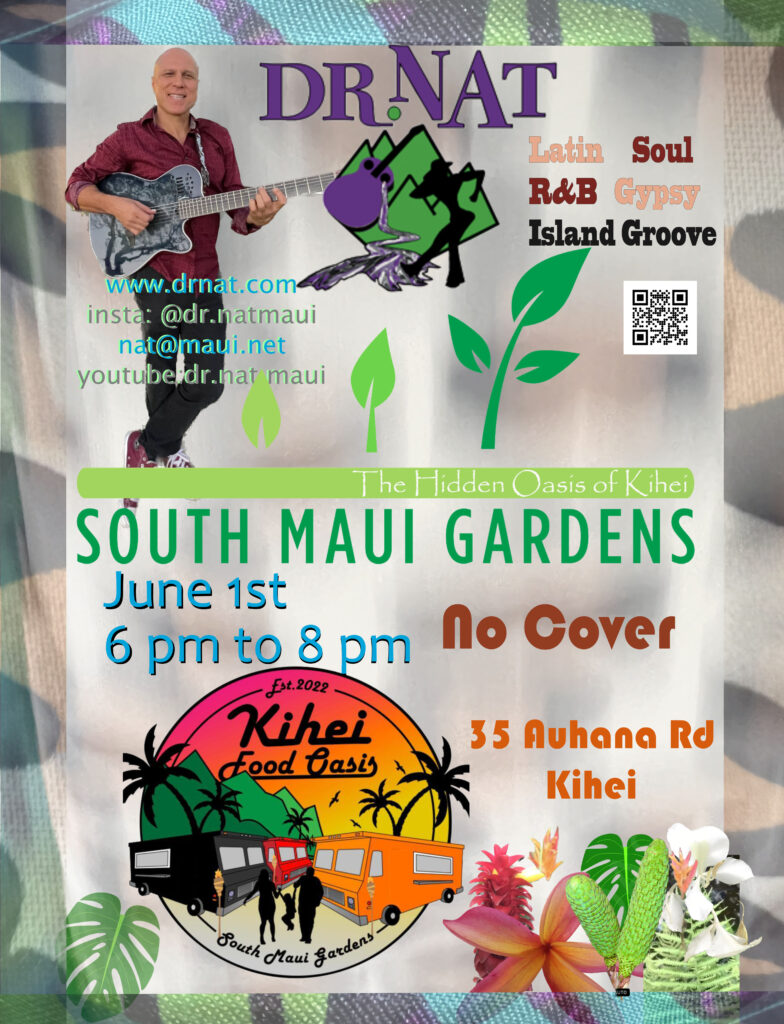 Dr. Nat playing solo at the South Maui Gardens on Thursday June 1st from 6 to 8 pm …no cover!
Demo of solo looping on Pacific Whale Foundation
I have the exquisite pleasure of presenting some of my friends on this song I composed entitled " What You Need"…At such an interesting time in each one of our lives these beloveds all recorded their own super sweet musings and made the assembling of the clips one of the most fun labors of love I have done in a long time!!
In quarantine I have taken the freedom to name my co-conspirators in this daence play "the Quarantinos" they are: Rizca Perkins , Kehaunani Kaauwaii , Stephen Smith , Julia Alexandra Crespo Tiger Tabby, Marchello and Cristina and Touque!!! Mahalo to Lisanna Gabriel for her help as well with the costume of some crazy painter who dropped by!!
It is but a small gesture of my longing for the wonderful friday nights at Heritage Hall where so many lovely smiles adorn the dance floor and my band of brothers in Rio Ritmo get to groove together. I hope everyone is doing well and holding strong…Ever strong and healthy! We will be back dancing again soon!!!
This song is one that wrote itself …and if it touched the heart of one person then the Cosmos is grateful to have made that connection…could be someone I don't even know really. Yet am grateful to have been in a place to guide it through to her (or him?! lol)
New bachata "Solo Ronroneo" dedicated to my stolen and then returned gatita. 
Big mahalo y gracias a Sandra Rodrigues for her feline prowess!! super bella.

Pass this on to someone who you think would like to be on the mailing list por favor!!!
Opens in a new tab..

to view demos at https://drnat.com/musician/media/videos/ ….
for inclusion on email list please send message to nat@maui.net or follow on instagram and Facebook …
@Dr.NatMaui
About Nat
Hola Y Aloha Kakou! 
Hi my name is Nat… I'm a Naturopathic Doctor and thus referred to sometimes as "Dr. Nat" and I am an artist primarily doing music however I have enjoyed various disciplines in the performing arts. I was born in Argentina to an American father and Chilean mother and raised in the U.S. (PA) And have lived on Maui for over 30 years. 
For the last few decades I have performed as a vocalist/guitarist/percussionist and band leader, actor and radio DJ amongst other roles. I compose and record original music in various styles but my greatest influences come from the world of Afro-Latin-Carribean music where I enjoy the great richness of rhythm and syncopation. Whether I am playing on my guitar and enjoying the beauty and simplicity of the more airy sound or with full bands locking in a groove it is all a very powerful medicine to my soul. It is my hope that through the Aloha this brings to me it is transmitted to the listener.  I hope to see you in the dance sometime…
On The Air
For fans of the Dr. Nat radio program second Saturdays on Manao Hana Hou radio after 12 years I will be taking a sabbatical from the airwaves.  I thank you those of you who encouraged me to continue these years and gave me an audience to play my favorite artists on my favorite radio station.  I hope I will return to the airwaves sometime in the future but a redirection was due and I will focus my energy in other endeavors for a while. Mahalo, Grazie, Gracias, Merci, Obrigado …thank you ….Mana Hana Hou ohana….and you the listener!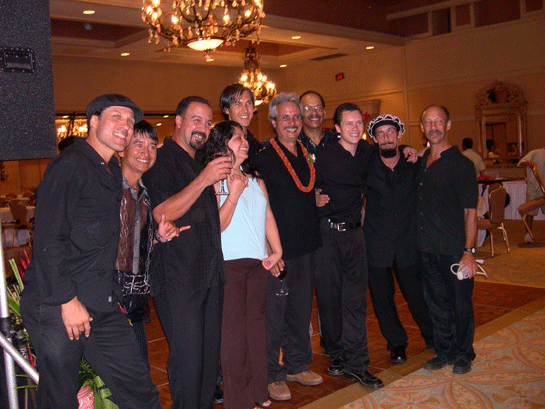 RIO RITMO
Dr. Nat performs with his 5 piece band, Rio Ritmo, on Maui, Hawaii. The band was formed by Dr. Nat in the summer of 1998. With Rio Ritmo, Dr. Nat sings primarily Afro Latin and Brazilian dance music in Spanish, Portuguese and English. The rhythmic styles include Salsa, Son, Latin Pop, Rumba, Merengue, Cumbia, Boogaloo, 6/8, Cha Cha, Bolero, Gypsy rumba, Samba, Samba reggae, Bossa Nova and the newer Cuban salsa style called "Timba" fusing funk, Afro-cuban, jazz and hip hop elements into the salsa.
The Rio Ritmo band can and will play other genre songs pending the event. The other styles include Reggae, Jazz, Pop rock and Contemporary.
Dr. Nat will no longer be deejaying Manao Hana Hou radio second Saturdays of each month. After deejaying with Manao Radio for about 12 years a sabbatical was taken.
Note: to date Dr. Nat and Rio Ritmo has the longest run in the Casanova's history having played consecutive Fridays beginning in 1998 and running through 2003 and has played the most total number of performances in the history of the club for any band.