HOLA Y ALOHA!
Aloha friends! I'm hoping that your summer has been wonderful and exciting! 
I'm letting you know that I  (Dr. Nat) will be filling in for Eric Gilliom for the next two fridays on the Pacific Whale Foundation Sunset Cocktail cruise on Aug. 25th and Sept. 1st.  Solo, I'll be playing a range of Tropical Dance music including Salsa, Reggae, Soca, Merengue, Reggaeton, Samba and funk/soul tracks…so something for everyone…The cruise is a wonderful way to wind down the week, and the summer for that matter!  It sets out at 5:00 pm til 7:00 pm with a check in at 4:15 at the Pacific Whale Foundation Ocean Store at the Ma'alaea Harbor Shops, next to Maui Ocean Center. Parking is free.
The adult rate is $70.95 for adults but there is currently a 40% discount for Kama'ianas with Hawaii driver's license or I.D.  Check on kids rates which are already discounted but may offer a bit more…not sure about this.  You can call to book at 249 8811 or go to:
https://www.pacificwhale.org/cruises/maui-cocktail-evening-cruises/#most-popularRates
Includes
• Appetizers: kiawe-smoked pork and chicken sliders with guava BBQ sauce, trio of house made chips and salsa, roasted garlic hummus, zesty bean salad, tomato and basil bruschetta, fresh baked brownies
• Complimentary alcoholic beverages including Maui Brewing Co. beer, wine and tropical cocktails for adults 21+ with valid picture ID (limit: 3 alcoholic beverages per adult)
• Unlimited soda, juice, filtered water
• Certified Marine Naturalists onboard
• Reef-safe sunscreen and filtered water
• Full-color marine wildlife poster
This open-air dance party at sea is a great multi-generational affair. A variety of tasty appetizers and refreshing beverages keep the fun in full swing, as the sun sets over the majestic Pacific Ocean. During winter months, guest appearances by humpback whales add to the excitement of this trip.
Not recommended for pregnant women or those with back or mobility issues.
I hope to be dancing on the water with you!!!
chao
Nat
Dr. Nat and Rio Ritmo will be playing:
 visit dr. nat's youtube channel,  maui vibe to view demos ….                for inclusion on email list please send message to nat@maui.net
For fans of the Dr. Nat radio program second saturdays on Manao Hana Hou radio after 12 years I will be taking a sabbatical from the airwaves.  I thank you those of you who encouraged me to continue these years and gave me an audience to play my favorite artists on my favorite radio station.  I hope I will return to the airwaves sometime in the future but a redirection was due and I will focus my energy in other endeavors for a while. Mahalo, Grazie, Gracias, Merci, Obrigado …thank you ….Mana Hana Hou ohana….and you the listener!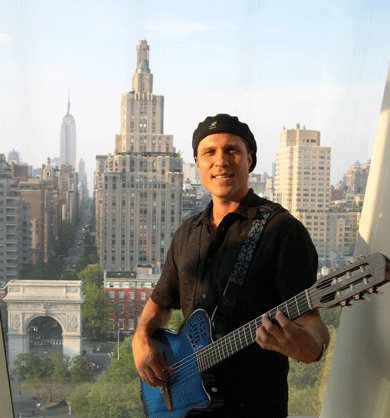 Dr. Nat overtop Washington Square Park at NYU 07/0
Dr. Nat is a vocalist, guitarist, percussionist, dancer, capoeirista, composer, actor, radio dj and producer. Born in Buenos Aires to Chilean and U.S. American parents, Nat's music reflects his cultural heritage as well. Blends of cross global polyrythmic styles comprise Nat's original repertoire of compositions. Nat's extensive travels through the Caribbean and Central and South America have infused his songs with a spicy river of rhythms (birthplace of "Rio Ritmo ") His songs resonate from the Islands with Afro Cuban rumba, timba, and son rhythms, Jamaican reggae and Brazilian sambas and capoeira grooves, as well as lush harmony, Hawaiian-inspired ballads… irresistible dance grooves to hypnotic lullabies. They take the listener on a voyage into the world of sound and rhythm with Chilean charangos, Brazilian berimbaus and Cuban Tres all woven together with Nat's dynamic tenor vocals. A healer, his themes reflect upon this life's journey and his love for the Great Mystery. They are commentary on healing, self-discovery, consciousness and love. His songs express the joy of this journey through insightful and inspiring, sometimes humorous and bluesy lyrics. Ultimately, Nat's Doctor is the music which transmits via universal translation- Aloha.
RIO RITMO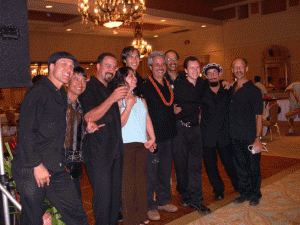 Dr. Nat performs with his 6 piece band, Rio Ritmo, on Maui, Hawaii. The band was formed by Dr. Nat in the summer of 1998. With Rio Ritmo, Dr. Nat sings primarily Afro Latin and Brazilian dance music in Spanish, Portuguese and English. The rhythmic styles include Salsa, Son, Latin Pop, Rumba, Merengue, Cumbia, Boogaloo, 6/8, Cha Cha, Bolero, Gypsy rumba, Samba, Samba reggae, Bossa Nova and the newer Cuban salsa style called "Timba" fusing funk, Afro-cuban, jazz and hip hop elements into the salsa.
The Rio Ritmo band can and will play other genre songs pending the event. The other styles include Reggae, Jazz, Pop rock and Contemporary.
Dr. Nat will no longer be deejaying Manao Hana Hou radio second Saturdays of each month. After deejaying with Manao Radio for about 12 years a sabbatical was taken.
Note: to date Dr. Nat and Rio Ritmo has the longest run in the Casanova's history having played consecutive Fridays beginning in 1998 and running through 2003 and has played the most total number of performances in the history of the club for any band.
{ 0 comments }