HOLA Y ALOHA! and Happy Holidays!!

NEW YEAR'S EVE in Kapalua this 12/31/19 at the beautiful Taverna Restaurant. Ring in the new decade with Dr. Nat and Rio Ritmo!
Latin Nights at Heritage Hall with Dr. Nat and Rio Ritmo are on for friday Dec. 27th from 8:00 to 11:00 pm and for the remainder of the fridays in the year and into 2020!!! All because of you!
Beginning salsa lesson at 8:00 pm to 8:30 pm when the band starts.
All ages welcome and B.Y.O.B.
Heritage Hall is located at 401 Baldwin Ave. in Paia across from the old Sugar Mill.
Cover is $10 adults and $5 under 18.
pass this on to someone who you think would like to be on the mailing list por favor!!!
for inclusion on email list please send message to nat@maui.net or follow on instagram and Facebook …
@Dr.NatMaui
For fans of the Dr. Nat radio program second saturdays on Manao Hana Hou radio after 12 years I will be taking a sabbatical from the airwaves. I thank you those of you who encouraged me to continue these years and gave me an audience to play my favorite artists on my favorite radio station. I hope I will return to the airwaves sometime in the future but a redirection was due and I will focus my energy in other endeavors for a while. Mahalo, Grazie, Gracias, Merci, Obrigado …thank you ….Mana Hana Hou ohana….and you the listener!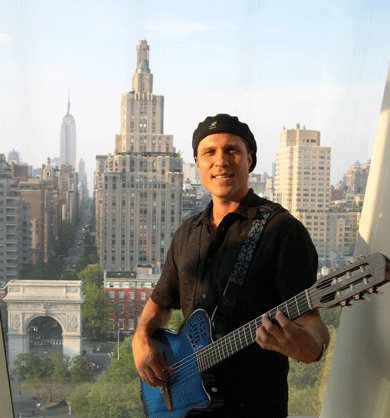 Dr. Nat overtop Washington Square Park at NYU 07/0
Dr. Nat is a vocalist, guitarist, percussionist, dancer, capoeirista, composer, actor, radio dj and producer. Born in Buenos Aires to Chilean and U.S. American parents, Nat's music reflects his cultural heritage as well. Blends of cross global polyrythmic styles comprise Nat's original repertoire of compositions. Nat's extensive travels through the Caribbean and Central and South America have infused his songs with a spicy river of rhythms (birthplace of "Rio Ritmo ") His songs resonate from the Islands with Afro Cuban rumba, timba, and son rhythms, Jamaican reggae and Brazilian sambas and capoeira grooves, as well as lush harmony, Hawaiian-inspired ballads… irresistible dance grooves to hypnotic lullabies. They take the listener on a voyage into the world of sound and rhythm with Chilean charangos, Brazilian berimbaus and Cuban Tres all woven together with Nat's dynamic tenor vocals. A healer, his themes reflect upon this life's journey and his love for the Great Mystery. They are commentary on healing, self-discovery, consciousness and love. His songs express the joy of this journey through insightful and inspiring, sometimes humorous and bluesy lyrics. Ultimately, Nat's Doctor is the music which transmits via universal translation- Aloha.
RIO RITMO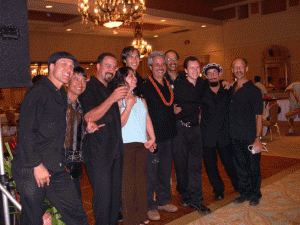 Dr. Nat performs with his 5 piece band, Rio Ritmo, on Maui, Hawaii. The band was formed by Dr. Nat in the summer of 1998. With Rio Ritmo, Dr. Nat sings primarily Afro Latin and Brazilian dance music in Spanish, Portuguese and English. The rhythmic styles include Salsa, Son, Latin Pop, Rumba, Merengue, Cumbia, Boogaloo, 6/8, Cha Cha, Bolero, Gypsy rumba, Samba, Samba reggae, Bossa Nova and the newer Cuban salsa style called "Timba" fusing funk, Afro-cuban, jazz and hip hop elements into the salsa.
The Rio Ritmo band can and will play other genre songs pending the event. The other styles include Reggae, Jazz, Pop rock and Contemporary.
Dr. Nat will no longer be deejaying Manao Hana Hou radio second Saturdays of each month. After deejaying with Manao Radio for about 12 years a sabbatical was taken.
Note: to date Dr. Nat and Rio Ritmo has the longest run in the Casanova's history having played consecutive Fridays beginning in 1998 and running through 2003 and has played the most total number of performances in the history of the club for any band.
{ 0 comments }